At the Laurus Trust, we understand the importance of giving our staff the opportunity to progress as it allows for personal and professional growth.
Meet Ms Cobb, a previous Learning Support Assistant (LSA) at Didsbury High School who has just been appointed as a Teacher of History within the Trust. But how did she get here? We asked Molly some questions.
Please tell us about your journey since starting with the Trust.

'After University, I wasn't sure what to do next. I decided to become an LSA as I thought I might want to work in education. Being an LSA was definitely something that sparked that love of constantly wanting to be in a classroom. After a fantastic LSA year, I decided to complete my teacher training and I have now secured my dream role as a Teacher of History at Didsbury High School! I am always going to look back to my LSA year and think how lucky I was to be able to gain that classroom experience.'
Are there progression opportunities at Laurus?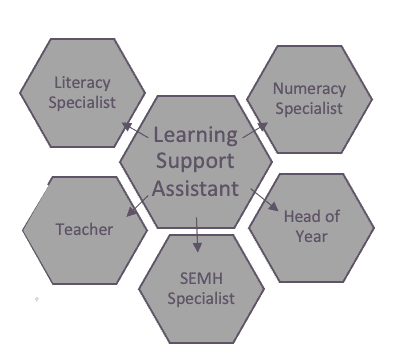 'I have chosen to progress onto teaching and my teacher training year was made a lot easier because of the training I received as an LSA. I came into my teacher training year lot more confident so my time as an LSA was extremely valuable!
I have friends who have been able to progress differently due to the experience they gained doing literacy, numeracy and pastoral interventions as an LSA. They have progressed onto: 
Head of Year
Literacy Specialist
Numeracy Specialist
SEMH Specialist
As an LSA, you have the opportunity to do interventions in terms of student's mental health including anxiety, giving you the experience to progress onto an SEMH Specialist to help improve students' mental health.
Being an LSA can open up so many doors – there's nothing more valuable than being able to see a variety of people in lots of different roles to help you decide where you want to progress.'
Did you need any prior experience before becoming an LSA?
'I think it's important to note that if you want to work as an LSA, you don't need to have formal experience working with students or prior experience of working with students with SEN.
You get a lot of training on the job and the most important thing is that you care about young people.
I was trained within:
Mental health interventions for students
Literacy interventions (helping students improve their reading skills)
Attachment issues
Team teach (helping students to manage their emotions)
What did you enjoy most about being an LSA?
'As an LSA, the big or small wins give you so much job satisfaction. For example, a student who was sitting their GCSEs was finding it stressful and struggling to regulate their emotions. We did a lot of work together to make this experience less overwhelming. When it came to results day, this student had done really fantastically well and to see them with a big smile on their face was an amazing moment. Watching a student who doesn't believe in themselves develop confidence over time with your help, you cannot beat it.'
Why did you choose to work at Laurus Trust?
'The message of the Trust fully aligns with my own; that every child regardless of circumstance or background should be given the tools to succeed. I also align with the Trusts attitude towards students with SEN, because I too believe that we should not lower our expectations of what students with additional needs can achieve. I love the aspirational culture of the Trust.'
If you'd like to work at the Laurus Trust, we have two careers' events coming up. This is the perfect opportunity for you to come and chat to our friendly team to find out more about the career paths and current opportunities we have available. 
Jobs Fairs Careers Event
Date: Wednesday 12th April 2023
Location: Old Trafford Stadium, M16 0RA
Time: 10:00 – 13:00
Laurus Trust Careers Event
Date: Tuesday 25th April 2023
Location: Cheadle Hulme High School, SK8 7JY
Time: 17:00 – 19:00
For more details about the upcoming Careers events, email [email protected].
Sign up to our Talent Pool to be notified of any future vacancies for support staff roles within the Trust, or visit TES to see what current opportunities we have available.