When applying for a position within education, completing an application form is often an essential step towards getting the job.
Here are six tips to help you make the most out of your application and improve your chances of securing the role.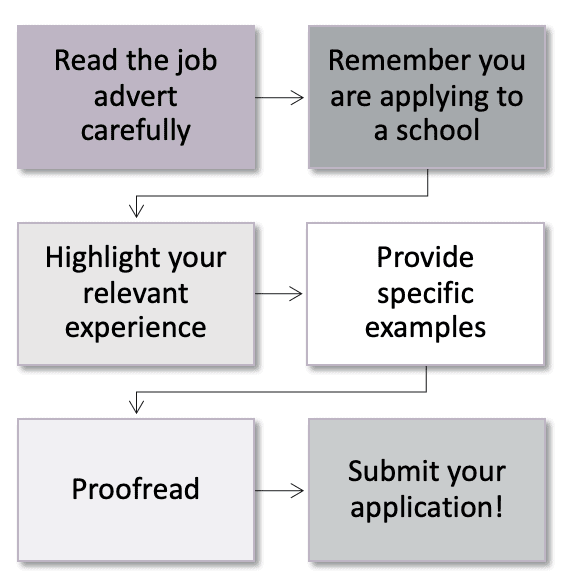 Read the job advert carefully: Pay attention to the requirements, the job purpose and the deadline stated on the advert. Make sure to follow the application form's instructions throughout in order to submit a complete application.
KEY TIP: Make sure your application clarifies any gaps in education/ employment for 3 months or more so the panel have a clear picture of your employment history.
Remember you are applying to a school: Applying to work in a school is different than applying for a non-school job. An awareness of Safeguarding and an understanding of its importance is vital. Do your research about the organisations commitment to Safeguarding before submitting your application.
KEY TIP: Laurus Trust are committed to safeguarding and promoting the welfare of children and young people and expects all staff to share this commitment. Laurus Trust' Safeguarding Policy can be found here.
Highlight your relevant experience: When completing the application form, make sure to highlight your relevant experience. This could include previous experience in a similar role and any relevant training. Emphasising your skills and experience will help you stand out from other applicants.
KEY TIP: Refer to the Job Description and Person Specification within your application to demonstrate to the panel how you meet the desired criteria. At the Laurus Trust, we look for individuals who are able to demonstrate our Non-teaching Core Behaviours and our Teaching Core Behaviours which set out the expectations we have of our staff.
Provide specific examples: When answering questions on the application, try to provide specific examples of when you have demonstrated the skills required for this role. These skills can be found in the Job Specification attached to the advert.
KEY TIP: Instead of using a different example to demonstrate each skill, try to think of one or two examples where you have demonstrated multiple skills to keep your application concise.
Tailor your application: Tailor your application to the specific role and organisation you are applying to. Research the organisation and try to incorporate their values, mission, or goals. This will show that you have a genuine interest in the organisation.
KEY TIP: Laurus Trust's vision is 'for everyone regardless of background or circumstance to be inspired, to thrive in all environments, to recognise what it takes to succeed, to set aspirational goals and work hard to achieve them.' Take a look at our Careers Site for an insight into our Trust.
Proofread: Finally, before submitting your application, make sure to proofread and edit your work. Check your grammar and spelling and make sure that your answers are clear and concise.
KEY TIP: When you are reading something you have written, it is often very easy to miss errors. Consider having someone else review your application as well, as a fresh pair of eyes can often catch inconsistencies that you may have missed.
In summary, completing an application form in education requires attention to detail, relevant knowledge and experience, specific examples and lots of proofreading. Following these tips will help you submit a strong application and increase your chances of securing the role.
Follow the link to view our Current Vacancies and apply today!